Hoopers in the Media
Girls: Teisha Hyman is an elite guard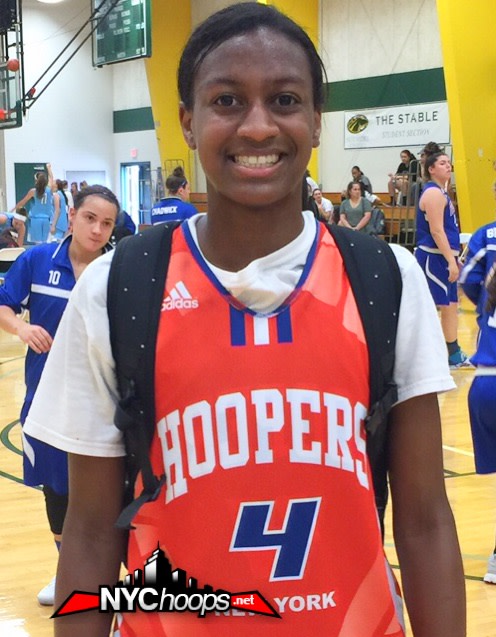 Mike Libert •
NYCHoops.net
As one of the best in New York in the Class of 2019, 5'10" guard Teisha Hyman (Woodlands '19) routinely proves herself as an elite point guard who can control a game against any competition from anywhere in the country.
She thrived playing with Hoopers NY during the AAU season, and an invite to the Adidas All-American Camp this past summer has her on the track for even bigger things ahead as she looks to continue to prove that she deserves to be considered among the best.
Having been among the top scorers in New York State at Woodlands as both a freshman and a sophomore. Hyman went out this summer wanting to demonstrate that she is also a pass first guard who can run an offense and get her entire team involved.
She was able to do just that as a talented Hoopers NY team made deep runs throughout their AAU schedule, with Hyman showing the college coaches who watched her that she is much more than just a top-flight scorer, she is a floor general who can control a team as well.
There may be some out there who still aren't aware of the talents that Hyman brings to the table, but Hoopers NY head man Bryan Williams believes that is all about to change. Hyman had a superb showing at the Adidas All-American Camp this past July, and Williams hopes that performance will lead to even more national opportunities for a player he believes in the best in New York in the 2019 class.
"I'm hoping Teisha gets a USA invite, and we are also waiting for her to be an Adidas-All American," Williams said.
Getting to showcase her skills in a USA National Camp would allow Hyman the opportunity she craves, to prove that regardless of being on a Nike EYBL program or not, she is in the conversation as one of the best lead guards around.
That would be why the Adidas All-American pick would be so important as well. It isn't that those who know and have seen Hyman play don't know how talented a player she is, it's that Williams wants everyone to have the chance to know she can compete and thrive against anyone.
"I think educated basketball people know who Teisha Hyman is, and when she makes the Adidas All-American team it will definitely put her in a new light for those who haven't necessarily seen her on the west coast," Williams stated. "We aren't an EYBL team and I think some have her under the radar, but that would show the rest of the country just how talented a player Teisha is."
College programs do fully understand what kind of talent Hyman is with Williams saying that Syracuse is making her a priority in the Class of 2019 having already offered, with other offered coming in from the likes of Ole Miss and Kentucky.
Hyman has upwards of 60 offers in total at this point according to Williams, though she really hasn't made many unofficial visits up to this point with the Orange being the only school he believes she has been to as of late. She may not take many more until her official visits begin next fall, but regardless of how that works out Williams stressed that Hyman is wide open right now and open to any school interested in recruiting her.
The future is certainly bright for Hyman who looks to lead Woodlands to a coveted and elusive Section 1 Class B Championship as she looks to continue proving herself as one of New York's best.
Go to NYGHoops.com for more girl's articles.

Girls: Bigtime Casey O'Shaughnessy
Mike Libert | Staff
M. Libert
This was always going to be a big summer for 5'6" guard Casey O'Shaughnessy (Bishop Kearney '19). It was going to be her first chance to play on the major AAU stage, while also being her first chance to impress Division 1 coaches who would surely be watching her.
With that pressure not rattling her in the least, O'Shaughnessy made the best of the situation as she thrived playing in some of the biggest tournaments of July, while earning some much-deserved Division 1 attention along the way.
Playing alongside the likes of Teisha Hyman and D'yona Davis in the backcourt throughout the summer AAU season could be a hinderance for some, but for O'Shaughnessy it was ultimately a blessing.
For the first time O'Shaughnessy was getting to play with future Division 1 players, and in the eyes of her coach with Hoopers NY, Bryan Williams, it was a major benefit for her.
"Casey isn't a Batman, but she is a really good Robin," Williams said in making a comparison to the superhero characters. "I want to stress though that there is nothing wrong with being a Robin. With Casey she knows what she has to do, and can do, and she loves doing anything she can to help the team win."
What that entails according to Williams is make the great pass into traffic, threading it on a needle to teammates down low, setting herself up for the long range shot off the dribble, or defending opposing point guards and giving them a lot of trouble with hounding and harassing defense throughout.
She doesn't have to do everything in every game but the fact that O'Shaughnessy was able to play with elite level players and stand out as someone who could be a difference maker certainly boosted her stock as Williams says that both Lehigh and Kent State are now heavily involved in O'Shaughnessy as a priority in the 2019 class.
It's just interest right now as Williams believes that the schools recruiting O'Shaughnessy are waiting until they firm up 2018 recruiting class before bringing offers her way, but when the offers do come, Williams knows they will be chasing a talented lead guard who will make everyone around her better.
"Casey is a kid who when she comes into your program, she is going to do very well and everyone else will improve. For me when you are looking at a point guard, that's all you can ask for," Williams stated.
The best is still to come as well as you can expect a big upcoming junior season in the CHSAA for O'Shaughnessy, with the offers for one of Brooklyn's more dynamic guards surely soon to come in.
Go to NYGHoops.com for more girl's articles.
Girls: D'yona Davis is back!!
Mike Libert | Staff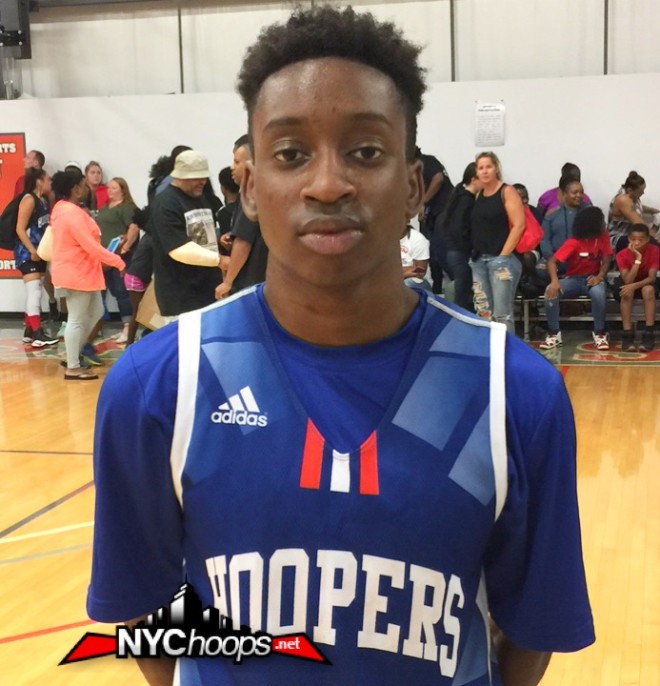 M. LIbert
After going down with a Torn ACL in her right knee in September of 2016, there was a thought that 5'9" guard D'yona Davis (Harry Truman '18) would never be the same player again.
Those who thought that though didn't realize the will, drive, and desire that Davis possesses as she relentlessly worked to get back on the court and prove herself to those who may have written her off.
She missed a full year of game action but Davis returned in time for the September Live Period just a couple weeks ago, playing with Hoopers NY and showing she isn't just back to her old self, she is even better as she looks to make up for lost time and earn herself well deserved Division 1 offers.
When Davis tore her ACL there was never a moment when she thought she couldn't get back. She always believed and was willing to do anything necessary, which meant connecting with Bryan Williams and his Hoopers NY program.
Williams knew that it would be some time before Davis got back to playing the game she loved, but she wanted to be pushed in the gym to help her get back to where she wanted to be, and Williams was willing to do whatever he could to help.
"After the surgery she was working extra hard," Williams said. "Strength and conditioning, physical therapy, and she couldn't shoot much so for 4 months after the surgery she was training 4-5 days a week. 2 or 3 with us, and then 2 or 3 with her high school."
It was the drive and desire that pushed Davis, and with the people who believed in her in her corner, there was no way she was going to let them or herself down.
Hoping to get back for the July Live Period, Davis just wasn't ready and while it was tough she knew she needed to be at 100%. She began getting back on the court in August and from there it was just a matter of time until everyone saw what she was capable of.
A talent before her injury, Davis post-surgery might be an even better player as she proved during the September Live Period weekend at House of Sports with Hoopers NY. She had impressive lift in blocking shots from behind and doing a great job on both ends of the floor on the glass, while also being a dynamic finisher off the dribble showing great quickness off the bounce.
It's all that combined with her IQ on the floor that has Williams believing that Davis has all the tools to be not just better than before, but among the best in New York City.
"She was shortchanged last year because of the injury but I truly believe she is better off for it because she is smarter now, and she is making more of an impact all over the floor," Williams explained.
One fear that Davis had was that college coaches would forget her after missing so much time, but after a thoroughly impressive time in front of the college coaches watching, it's not shock that the likes of Rhode Island, LaSalle, Manhattan, and Wagner among others all are intrigued again, seeing what Williams knows in that Davis is truly back and better than ever.
It may have been a long road, and tough times may have ensued because of it, but Davis is now back on track to be one of NYC's best once again, and Williams says he is excited to see what happens for her going forward as he believes she will make some lucky Division 1 program extremely happy.
"I think she is now back on the map. She has the school year ahead but now people know DeeDee is back and I know she is going to make some college coach very proud."
Hoopers NY (Reynolds) Smack Positive Direction, 64-36
Teisha Hyman & Devyn Elliott
M. Libert
From the very start you could see that this was going to be the Hoopers day as the young Positive Direction squad struggled with the pace that the Hoopers wanted to play, going out to a 9-0 lead in the first 2:25 and never looking back from there in the victory.
Outside of Vanerlie Valcourt (The Mary Louis Academy '18) this Positive Direction team was comprised of players who primarily played on the TMLA JV team this past season, and going up against a team that is full of future Division 1 players from the Hoopers meant that it would be a tough go of it for the talented, but inexperienced Positive Direction.
Kristen Teklits (New Fairfield, CT '17) and Devyn Elliott (Cardinal Spellman '18) both were incredibly tough to contain in the opening half as they combined for 23 first half points, with nearly all the points coming in transition as the Hoopers pushed the tempo as often as they can, getting out on the break and scoring ahead of the Positive Direction defense.
If it wasn't those two doing damage in the early going it was Casey O'Shaughnessy (Bishop Kearney '19) who was draining three balls off the dribble knocking down 3 of them in the opening half, including one just before the halftime buzzer to make it a 44-18 lead at the break for the Hoopers.
With such a big lead the Hoopers did take their foot off the gas a bit in the second half with Alexis Suarez (Kennedy Catholic '19) as really the only scorer who looked for her shot as she showed the versatile ability to score inside or outside when she got looks at the rim
Teisha Hyman (Woodlands '19) proved to be a do it all lead guard for the Hoopers as well as she barely looked for her shot, but got everyone else involved tallying up at least 10 assists on the day to lead them to the easy victory.
Besides Valcourt, Grace Collins (The Mary Louis Academy '19) continued to show good things for Positive Direction, scoring in the lane in tough spots but it wasn't enough on this day as the Hoopers maintained momentum through to roll to a 64-36 victory.
Teklits had a game high 18 points to lead the way for the Hoopers, while Suarez and Elliott had 13 and 12 points respectively with Hyman being the leader and floor general to get everyone going throughout.
Valcourt was the leading scorer for Positive Direction in the loss with 12 points in a game where she played well throughout but there just wasn't enough to overcome all the weapons of the Hoopers on this day.
Girls: Lexi Suarez is a top-flight scorer
Mike Libert | Staff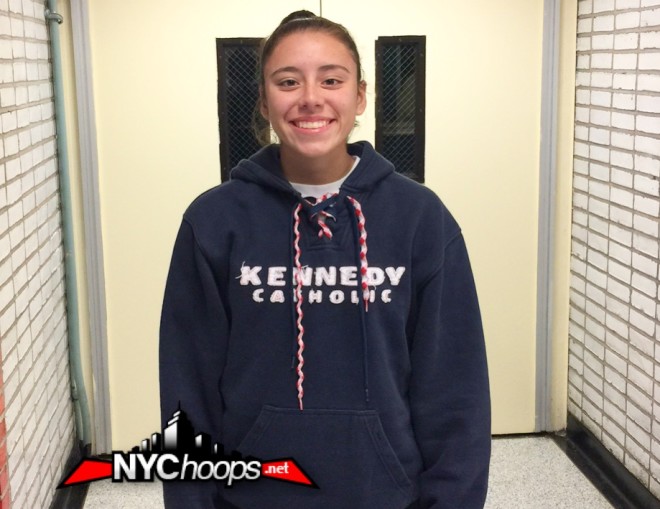 M. Libert
As a potent scorer who can score from both the outside and getting to the basket, 5'8" guard Lexi Suarez (Kennedy Catholic '19) has shown over the summer playing with Hoopers NY on the AAU circuit that she can thrive playing against a top-flight level of competition.
She has been a star for Kennedy Catholic, but now has proven to be a great scorer against the very best from around the country, making her a Class of 2019 graduate with a high upside, and a good amount of Division 1 potential.
A near 20 points per game scorer with the Gaels during her sophomore season, Suarez went out with Hoopers NY's top team and showed that she could be a lethal scorer all over the floor, though Hoopers coach Kyle Reynolds says he believes she could've even done more.
"Lexi showed that she is a great shooter, good ballhandler, and I think she does a lot of things well but because she plays with Teisha Hyman and some other girls that I think she takes a backseat to them at times," Reynolds stated.
Feeling that she needs to go out and let her game speak for itself Reynolds says he wants her with the Hoopers to play more like she does with Kennedy Catholic where she knows and plays like she is the main threat on the team.
Reynolds says he doesn't feel as if Suarez needs to play as if she has to take a backseat, believing that she doesn't need to turn any shots down when playing against the best teams, thinking that she has as much upside as anyone.
"If Lexi gets on the court like every other player and does what I know she can do, and perform the way I know she can, I think she can play and perform as well as Teisha," Reynolds stated.
Those are strong words, but words that ring true when you see Suarez go out and create off the dribble the way she did at times over the summer, and the way she did last weekend at the Rose Classic. The potential is truly there for Suarez to be a special player.
Going into her junior season now, Suarez is still waiting for her first Division 1 offer though she says that Fordham, Iona, and Marist have started to heavily recruit her as of late.
The expectations this H.S. season for Suarez are high as her scoring prowess could allow Kennedy Catholic to be a contender in the CHSAA Class a Division this year, and while she may not be a fully blown up household name yet, her versatile abilities to play both backcourt spots could have that changing in the very near future.
Go to NYGHoops.com for more girl's articles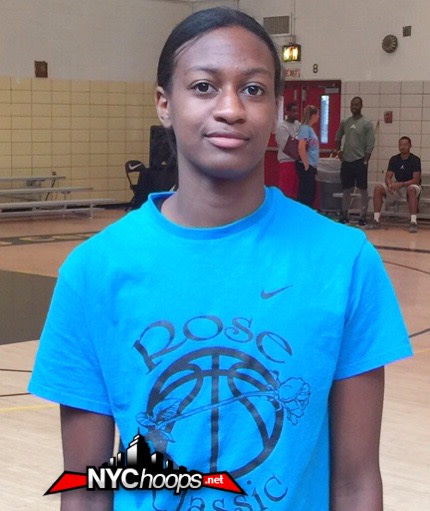 M. Libert
Teisha Hyman, 5'11" PG, Hoopers NY-Reynolds (Woodlands '19)- After a day on Saturday where she showed she could pour in big time scoring numbers, Hyman did more of the same on Sunday in her teams one game, a win over the Lady Ballers. What she did more of that was so impressive though was constantly make the extra pass when the opposition doubled her with the ball. She was able to break the double with her great quickness, and finishing at the rim or in the midrange was never an issue, but her understanding and ability to find teammates for good looks really shows her enhanced game and potential at this point.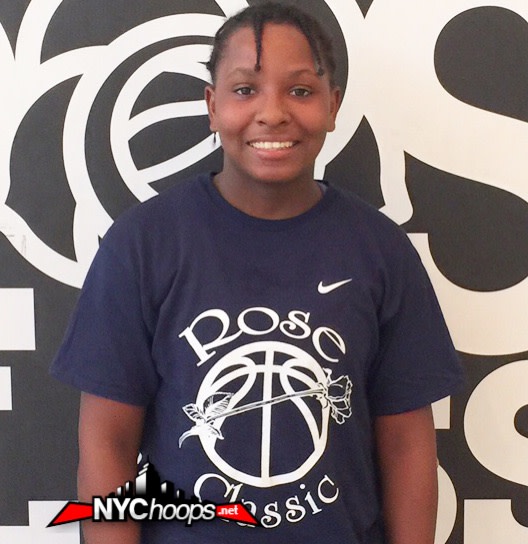 M. Libert
Dyamon Hunter, 5'7" SG/PG, Hoopers NY-Velez (Thurgood Marshall Academy '18)- One of the lone Hoopers (Velez) players who isn't from Aquinas H.S. in the Bronx, Hunter was one of the top scorers in the PSAL last season at TMA, and by the looks of her play on Sunday against a better level of competition in the Renegades and LuHi, expect to see Hunter prove that against anyone she can put up big numbers. Playing against a lower level of competition during the H.S. season, you would think Hunter would make her living just getting to the basket, but she showed a great understanding of defenses by hitting on floaters and runners in the lane, and her defense as a harassing on ball threat made her a strong and solid two-way player.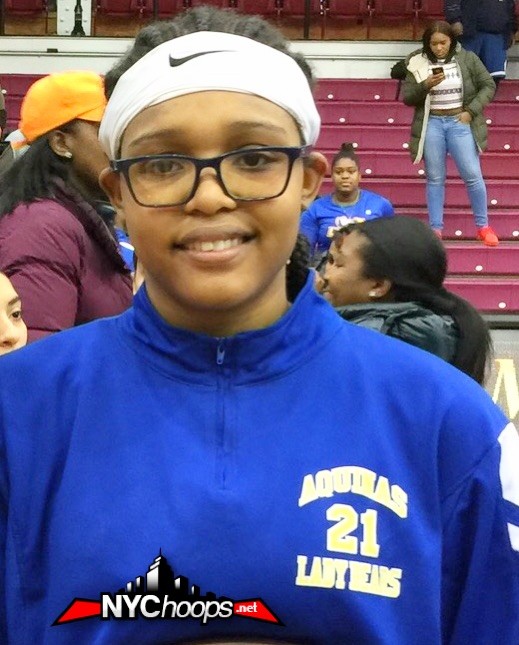 M. Libert
Ronella Kennedy, 6'1" PF, Aquinas '18- Playing in Class B means you can at times get overlooked, especially during the regular season when the competition that you play may not be comparable to the teams playing in the highest classifications, but Kennedy really put together an outstanding effort on Saturday with 13 points and 15 rebounds. She showed excellent ability to dominate the inside and get in good positions for offensive rebounds. Good footwork as well when she needed to make a move inside, the continued growth of her game to expand more outside the paint should develop her as a prospect even more.
Kira Villegas, 5'6" SG, Aquinas '19- Going back to what we said about Class B and Aquinas before, it can be tough to really get noticed when you play against lower classification competition all year long, but there is a lot to like about Villegas and her ability to shoot. One of the quicker releases off her hand on the day, Villegas was great off the catch and shoot where she would get the ball off screens up top and connect with ease, knocking down 4 threes in the game to help carry them to a victory over St. Joseph's. Going forward she will need to expand her base in terms of handling the ball and pushing the tempo as a possible lead guard to really blossom as a recruit.
Girls: Westchester Hoopers win GymRat Challenge
Mike Libert | Staff Writer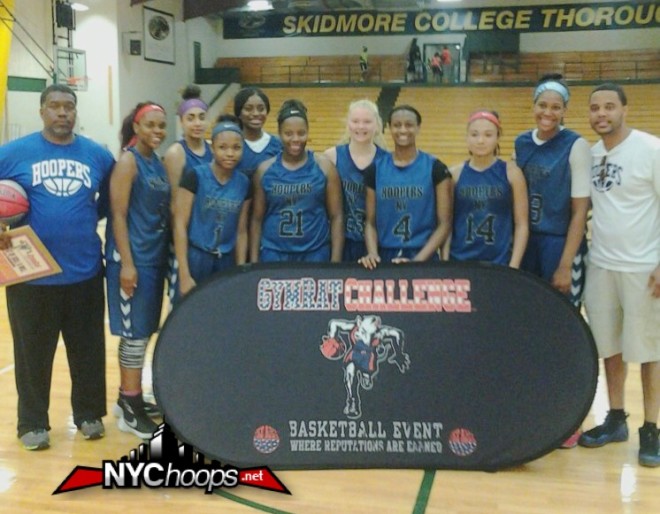 Westchester Hoopers
The 16u GymRat Challenge up at Skidmore College in Saratoga Springs this weekend was loaded with some of the top girl's teams from the Northeast, and while they may have had a number of challenges along the way the Westchester Hoopers would not be denied as they overcame deficits, foul issues, and in some cases the referees to win the Gold Bracket Championship, proving themselves to be among the top AAU teams now in the area.
It wasn't an easy weekend for the Westchester Hoopers, not by a long shot. They added a pair of talented players in Danielle Patterson (The Mary Louis Academy '17) and Sydney Lowery (St. Luke's, CT '17) to go along with a longtime Hooper in Teisha Hyman (Woodlands '19), and while the chances of making a deep run looked promising to behind the weekend, things definitely got bumpy at times.
The trouble began in pool play game number one on Saturday afternoon when the Hoopers took on the Cape Cod Bulls and they got off to what could best be considered a sluggish start. They trailed at the half and looked to be in serious trouble of losing their opener which would for the most part have ended the Hoopers chances of even making the playoffs.
Luckily for them though they had Patterson on their side as she kept them close to start with 14 points in the opening half, and with a big 16-0 run to open the second half, the Hoopers began to pull away. It was the duo of Desiree Davis (Kingswood-Oxford, CT '19) and Kristen Teklits (New Fairfield, CT '17) that put Westchester over the hump as they both gave the team more offense with Patterson becoming a huge defensive weapon late to pull away for the first game win 61-44.
Pool play game #2 saw the Hoopers face off with CC Basketball, a team with girls primarily from the central part of New Jersey, and once again it was a sluggish and uninspired start by the Hoopers.
Teklits was able to hit some shots from behind the arc in the early going but Patterson wasn't getting the ball in spots to score as much in the first half here as she did in the first game of the day, and Hyman was once again getting doubled and the ball was being forced out of her hands.
The game was tied at 30 at the half, and while things weren't looking great in the opening 16 minutes again for the Hoopers, they once again found a groove in the second half as Patterson came to life to really close things out.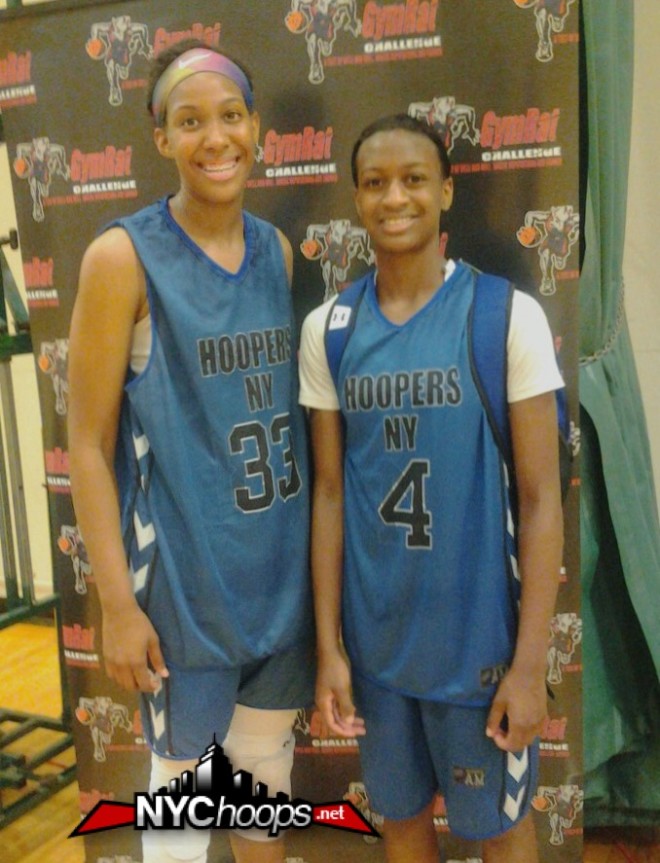 MVP Danielle Patterson & Teisha Hyman
M. Libert
She wasn't just dominating around the rim either, it was a total effort from the newest Westchester Hoopers player. Knocking down face up midrange jumpers, scoring by driving down the wings, while also posting up and spinning around defenders for buckets, she had 14 of her 22 points in the second half to eventually help see her Hoopers team pull away for a 69-58 victory.
To close out Saturday the Hoopers had their final pool game against the Saratoga Sparks (Orange). They were 0-2 so far on the day so it looked like it would be an easy game on paper, and it was.
Playing at 10pm and playing your 3rd game of the day is always a challenge, but because of a quick 25-8 lead, the Hoopers were able to rest a lot of stars. The lone Westchester Hoopers player in double digits was Lowery as she finished with 11 points, while players like Shaye Galletta (Greenwich, CT '17) and Whitney Fulton (Notre Dame, CT '17) each had 9 points apiece as the Hoopers rolled in a 65-34 win.
Saturday was over and the Westchester Hoopers won their pool and were going to advance to the Gold Bracket playoffs, and on Sunday the quarterfinals saw them pitted against another New York power in I-90 Elite Gauntlet, a team that plays on the Adidas circuit, and a team that is loaded with future Division 1 stars.
The Hoopers could not get off to a slow start in this one if they wanted to move onto the semifinals as I-90 features 8 players who already hold Division 1 offers.
They must have known that though as the Hoopers came out as strong as they had in any game so far this weekend doing a tremendous job in getting to the rim and scoring in transition going up early on by as much as 18-8.
It was really the play of Hyman in this one that really set the tone early on as she was able to beat defenders off the dribble and prove to be the best player on the floor for long stretches of the game as she had 8 to lead the way early on and give the Hoopers a 25-16 lead at the half.
While it was a great first half, the thought was that I-90 with all their talent would turn it on sooner than later, and that is exactly what happened as right from the start of the 2nd half, the Upstate, NY power began to chip away. First it was Amani Free (Long Island Lutheran '18) who was able to score both inside and outside. Danielle Rauch (Bishop Ludden '18) was able to lead the team with the ball in her hands to score and create in the open floor, and then it was Anndea Zeigler (Cardinal O'Hara '17) scoring from the wings on the outside which eventually gave I-90 the lead with 7 minutes to play.
All this was happening while Patterson was starting to get in major foul trouble, and with 2:14 left in the game, the star 6'3" forward fouled out with her Hoopers team down 42-38. It seemed like a knockout blow for the Hoopers, but Hyman at this point decided to show everyone in attendance just how good she truly is.
First it was a quick drive around three defenders, then it was a defensive rebound and a coast to coast finish, then it was a runner in the lane and a three-point player. Even though I-90 more often than not was matching it on the other end themselves, Hyman scored 11 points in the final 2 minutes of the game to eventually put her Hoopers team up 49-48 in the closing 8 seconds of the game.
I-90 though had one last chance and Free got a great look from the right wing at a three ball that was more than halfway down before popping out, and Meg Hair (Jamesville-Dewitt '18) missed on a contested putback at the rim as well before the ball was poked out to midcourt as the buzzer sounded to see the Hoopers fight back and hold on for a hard fought 49-48 one-point victory.
That game ended up 2:25pm on Saturday, but there was no down time, the semifinal game against a rested WBA Lady Knicks team who had a bye was tipping at 2:30pm.
Maybe the most interesting storyline about the Hoopers/WBA Lady Knicks semifinal was the fact it provided a rematch of the Section 1 Class "B" Championship Game that saw Woodlands lose in heartbreaking fashion to Irvington as Woodlands star Hyman and her Hoopers team would take on Irvington star Lindsay Halpin (Irvington '17) and her Lady Knicks.
An exhausted Hoopers team got down by as many as 22-10 in the opening half and trailed at the half by 10 and it seemed like the gas was on empty for the Hoopers, but amazingly once again, as had become their ammo, they climbed their way back into this one late in the game.
It was a lot of the secondary pieces as well that stepped up as Devyn Elliott (Cardinal Spellman '18) was really a force in the pain finishing against a smaller Lady Knicks team, and Davis was also coming up big on dribble drive opportunities going one on one and finishing going down the baseline especially.
Sooner than later the Hoopers took their first lead of the game with just over 10 minutes to play but Halpin and fellow guard Katie Popp (Rye '17) wouldn't go away and even though they eventually got down by 6, each hit a with under a minute to go to tie the game back up at 55 with just over 9 seconds to play.
Overtime looked like a distinct possibility, but Teklits, who had really struggled in the two playoff games so far, came up with her biggest shot of the tournament as she drained a three from the left wing at the final buzzer, her only FG of the game, to see the Westchester Hoopers through to the Gold Bracket Championship Game as they won in dramatic fashion once again, 58-55.
The Championship Game would now pit the Hoopers against an extremely talented Jersey Shore Elite team, and as you would expect it was a back and forth contest that wasn't decided until even past the final horn of regulation.
Maybe it was because she made that enormous shot to win the semifinal game but Teklits in this one seemed like she was back to herself to start the title game and was able to connect on long range shots to give the Hoopers the early lead.
The Hoopers led for much of the opening half but were never able to pull away due to the likes of Tori Hyduke (Rumson-Fair Haven, NJ '18) and Courtney Dobrzynski (St. John Vianney, NJ '17) making three ball after three ball to allow Jersey Shore to stay close in the opening half though the Westchester Hoopers did take a 3-point lead into the break.
While the Hoopers looked as if they were the better overall team, Jersey Shore Elite was draining three ball after three ball to not just stay close, but take the lead in the early going on the second half for the first time as in the game overall they ended up making 12 threes, which normally would put a team in a very good spot.
Not necessarily in this game though as Patterson was able to play with her back to the basket and finish strong down low more often than not, and with Teklits and Hyman each doing a great job of attacking the rim late, the game was deadlocked at 55 in the final seconds, and while each team did have a chance to win it in regulation, neither team could find that late bucket to win it and we were headed to OT to decide who would go home the champions.
The first bucket of the OT session went to the Hoopers as Teklits got a beautiful feed from Hyman in transition to score, and then off a Jersey Shore miss, Patterson got the rebound and threw it up the length of the floor to an open Teklits again as she gave Westchester a 4-point lead right away in the 2-minute overtime.
Jersey Shore tried to go back to the well with three balls, but unlike how they were falling in regulation, they missed on all 5 of their attempts in OT which really put them in a deep hole in this one.
Another bucket by Patterson spinning around a pair of defenders put the game away with 34 seconds to go as it just seemed like Jersey Shore Elite couldn't answer anymore and as the seconds ticked away you could see the joy about to burst out of the Westchester Hoopers players and as the final buzzer sounded the celebration began as they were Gold Bracket GymRat Challenge Champions, taking down Jersey Shore Elite for the title 61-56 in OT.
Patterson led the team in scoring once again with 18 points and she was named Tournament MVP. Teklits added 17 points in a huge game of her own, while Hyman was a playmaker and a leader in scoring 12 points in the win.
It wasn't easy at any point, but the Westchester Hoopers proved to be the best and we're going home with the hardware in a much deserved championship effort for a very talented team.
Meet Ashley Martin, The Iona Basketball Recruit With A 5,000-Mile Reach
By Harold Gutmann | Nov 25, 2015
Special to espnW
Courtesy Survival of the Children Foundation
Ashley Martin is an Iona signee and co-founder of the Survival of the Children Foundation, which helps kids in Ghana.
There aren't many high school basketball players who leave their office to go to practice. Then again, there aren't many high school basketball players who have helped start an international aid organization.
Meet Iona-bound Ashley Martin, a senior at the Marymount School of New York and the co-founder of the Survival of the Children Foundation, which she formed to aid underprivileged children in Ghana.
Courtesy Survival of the Children Foundation
Ashley Martin visited Ghana when she was 15 and came home committed to helping the impoverished children.
Martin's interest in helping Ghanaian children started three years ago when she went with her mom on a 10-day vacation to the western African nation to visit a family friend. Martin was struck by how many great people she met who couldn't financially support themselves.
"I had never experienced anything like that," said Martin, who was 15 at the time. "The level of poverty in Ghana was so foreign to me, and I felt like I needed to make a difference for people who were so hospitable to me and my family. It was the least I could do to help their children go to school."
Still, it's one thing to want to help those less fortunate. It's another thing to actually act, especially from thousands of miles away.
"Most kids don't come home and think about what else they can do," said Christa Miller, a board member at the foundation. "Most children, when they come home it's 'Oh good it's over, I don't have to do anything about it.' Ashley really tried to figure out how she could get resources back to them."
When Martin got back to New York, a classmate's father helped her with the legal requirements of starting a non-profit, and a family friend gave her office space in East Harlem. On some days, Martin would spend time after school in her office before heading off to basketball practice at Marymount, where she is a 5-foot-8 shooting guard who averages 15 points.
"It was really productive actually," said Martin, who signed with the Gaels earlier this month. "It was really helpful for times I may have had an idea for a fundraiser, I'd just call up the team and we'd all meet at the office and have a brainstorming session. It was really helpful to have a space that we could call our own."
The foundation had a fundraising concert featuring a Ghanaian artist who wrote a song for the event, and it also sells jewelry and T-shirts on its website. The money goes toward supporting orphans and other vulnerable children in Ghana by sponsoring their education and giving them food and clothing.
Ashley grew up around basketball -- her father, Chuck Martin, is an assistant men's basketball coach at Indiana University. But she said her travels in Ghana made her appreciate the game even more.
"Seeing kids who play basketball in Ghana who barely have sneakers to play in has made me want to work on my craft more often just to get better," Martin said. "Because if these kids who are playing practically barefoot are working on it and loving the game, why shouldn't I be doing the same thing?"
If these kids who are playing practically barefoot are working on it and loving the game, why shouldn't I be doing the same thing?

Ashley Martin
Iona women's basketball coach Billi Godsey said she was thrilled to find a player who embodies the program's hard-nosed, determined mindset.
"She is such a well-rounded young woman and her charity work speaks directly to the mission of our institution," Godsey said.
But Godsey expects Martin to contribute not just in the community, but also on the court. "She is a bigger guard that has such a strong understanding of the game and can score in a multitude of ways," Godsey said.
Bryan Williams, the director of Martin's AAU team, the Westchester Hoopers, calls Martin a female Scottie Pippen because she does so many things well.
"Ashley is a multipurpose player -- she can rebound, she can defend, she can pass, she can dribble, she can shoot," Williams said. "She has a great basketball IQ and she's a leader off the court, and that shows on the court."
Martin says she might study child psychology and business at the New Rochelle, New York, campus. Once she graduates and has more time to devote to the foundation, her goal is to build an orphanage in Ghana.
Miller said the leadership skills Martin developed in basketball came in handy when it was time to get her foundation off the ground.
"She's certainly a team player when she plays basketball -- she's very committed, she lives and breathes basketball -- and she does that when giving back," Miller said. "She discovered her own nonprofit, she does speaking engagements, and a lot of the skills that she's developed came from basketball -- the teamwork, the dedication, the passion, the focus, the commitment -- and I think that she'll always be that individual."
New Rochelle's Kayla Correa commits to Coppin State
Mike Zacchio, mzacchio@lohud.com
11:43 a.m. EDT September 25, 2015
New Rochelle senior Kayla Correa announced her verbal commitment to attend Coppin State, a Division I program in Maryland, on Thursday night, according to her AAU coach Bryan Williams.
Buy Photo
New Rochelle's Kayla Correa in action against Clarkstown South's Britney Gallagher, left, and Kayla Tucek during a girls basketball game, Dec. 10, 2014 in New Rochelle. New Rochelle won, 63-60. (Photo: , Tania Savayan/The Journal News)
Correa, who came to the Huguenots last year by way of Cardinal Spellman in the Catholic High School Athletic Association, made an immediate impact in New Rochelle, leading the team to the Section 1 Class AA quarterfinals.
The speedy guard was visited by Coppin State at both New Rochelle at her home, according to Williams, who heads the Westchester Hoopers.
Guerra gets a visit: Ursuline junior Korina Guerra, Correa's Hoopers teammate, received a home visit from Sacred Heart University, Williams said. The lanky guard has drawn interest from Division I programs since a breakout freshman season with the Koalas.