Belcoo O'Rahilly's
News
Late Drama But The Senior Ladies Hang On For Deserved Victory
Sep. 4, 2018
Senior League Division 3: Knockninny 4-6 v 3-10 Belcoo

Belcoo Senior Ladies were 10points ahead as this fixture entered added time before 3 goals in 90seconds from the hosts seen just one between them at the finish. Belcoo however were worthy winners having shown great hunger and heart this evening as they worked hard for a well earned success, avenging an earlier season defeat.
Belcoo made a bright opening, the impressive Eimear Higgins, playing only her second game of the season, had a great game and having won the throw up she worked the ball into Tina Gallagher who was fouled, Linda McGovern slotting over the free with 50seconds on the clock.
The O'Rahilly's would find the net next, Higgins making a great block on the left wing, Lisa Stewart picked up the loose ball and slipped it to Collette Rice who ran through and found the roof of the net. Knockninny would reply with a pointed free but Belcoo were still playing some good football.
Arlene Furey was out in front on the right side and she found Donna Feeley who scampered 50yards down the wing before crashing a shot against the crossbar, Tina Gallagher gathered the rebound but her effort at goal was deflected onto the post before coming back to her to net from close range.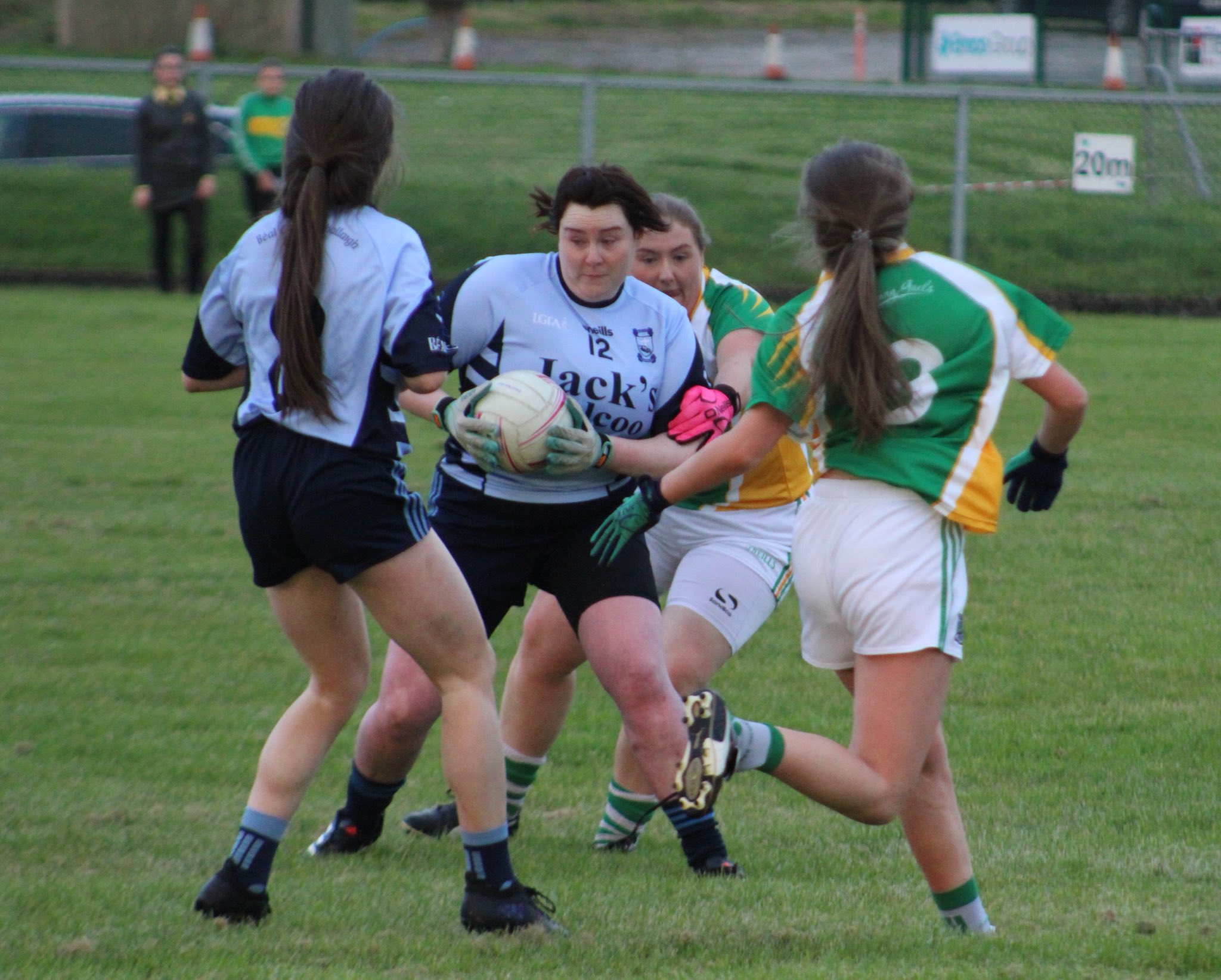 Linda McGovern holds tight to possession during the first half
Knockninny would again register from a placed ball but Belcoo would continue to hold sway. Good play by Lisa Stewart and Arlene Furey on the right seen Donna Feeley cut infield but she was to be denied by the post on this occasion. Feeley would terrorise the home defence all evening and she would soon split the posts. Michelle Cullen strong at the back, turning over an attack, she fed the ball into Higgins who in turn found Lisa Stewart and her kickpass seen Feeley bear down on goal and drill over the point. 2-2 to 0-2 Belcoo leading on 12minutes.
The O'Rahilly's wouldn't score in the remainder of the half despite having a lot of opportunities and possession of the ball. Knockninny would have their best spell of the half as they kicked a couple of great points from play while other chances were denied by good tackling by Aoife Keaney, Leona McNulty and Crona Higgins in defence. Chloe Dolan's distribution from kickouts was excellent in this half as Belcoo gained primary possession on most of the restarts. Half time: Knockninny 0-4 v 2-2 Belcoo.
Belcoo would boss the second half in its entirety until their late late collapse almost let Knockninny in to rob them of their victory. The four Belcoo substitutes made telling contributions having been introduced. Aine Barrett combining with Lisa Stewart to set Donna Feeley up for a point before Amanda McGrath played a great ball into Feeley for a goal. 3-3 to 0-4 just three minutes into the second period.
The visitors began to clip over some good points from play, Collette Rice set the ball rolling before some great work on the right by Crona Higgins and Amanda McGrath set Donna Feeley up for a score. Twice in quick success some well timed and well read interceptions by Leona McNulty on the left wing seen Belcoo counter upfield for two more Donna Feeley points, a long run by Lisa Stewart carving out the first score with Michelle Cullen, Aine Barrett and Amanda McGrath all involved in a flowing move for the second.
A well worked one two between Aine Barrett and Collette Rice seen Eimear Higgins cap a fine game with a lovely point while Amanda McGrath slotted over after Crona Higgins gathered the kickout and played it to McGrath. Belcoo were now 13points ahead with just 6minutes remaining.
Knockninny would score a goal but the O'Rahilly's responded with a free from Collette Rice. 3-10 to 1-5. What followed was a few minutes of madness, Knockninny added a point before they scored a goal. They were in again but were denied by Ciana McGrath and Leona McNulty. The pressed stayed on the Belcoo defence however and Knockninny were awarded a disputed penalty, the kick was dispatched to the net.
The hosts claimed the next kickout, launched the ball into the square and it dipped into the net and just like that there was one point between them. Belcoo managed to claim possession from the subsequent kickout and with that the whistle went 3-10 to 4-6. Winners by the slimmest of margins in the end.
Team (13 a side) Chloe Dolan, Aoife Keaney, Leona McNulty, Arlene Furey, Michelle Cullen, Crona Higgins, Eimear Higgins (0-1), Seana Feeley, Donna Feeley (1-5), Collette Rice (1-2), Lisa Stewart, Tina Gallagher (1-0), Linda McGovern (0-1). Subs. Ciana McGrath, Amanda McGrath (0-1), Kira McGovern, Aine Barrett.
You must be logged in and associated with this team to post comments. If you are logged in and associated with this team, then your user association type does not have sufficient permissions to post comments.