Belcoo O'Rahilly's
News
U21 Ulster Semi Final Poster
Feb. 7, 2011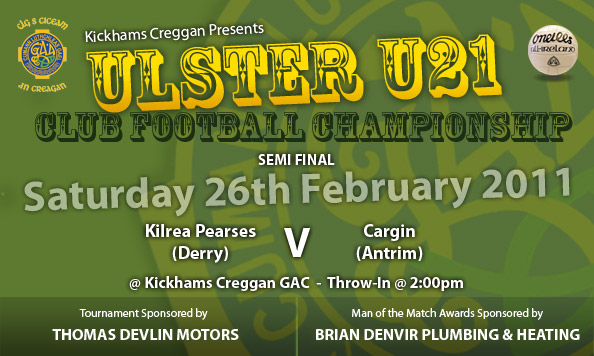 Our Under 21's will travel to Creggan this Sunday to face Burren (Co. Down) in the Thomas Devlin sponsored Ulster Under 21 Club Championship Semi Final.
Following an impressive victory over Monaghan Harps three weeks ago, Belcoo will have to be at there best this weekend if they are to progress into the Final. In Burren they face a team who's Under 20 team has won the Down Championship for the last 5 seasons running and they are also the current holders of this conveted Ulster Title.
We go into the game hopefully at full strength with James Stewart likely to return to the side having missed the Quarter Final. There is training on Wednesday and Friday at 8pm as the management apply the finishing touches to the teams preparations.
We wish the players and management all the best for Sunday and hopefully the team returns with a place in the Ulster Final secured.
You must be logged in and associated with this team to post comments. If you are logged in and associated with this team, then your user association type does not have sufficient permissions to post comments.