Belcoo O'Rahilly's
News
Belcoo Man Moving Up in the World
Oct. 10, 2011
Congratulations to club member Brendan Dolan who produced some stunning Darts during the week in the PartyPoker.com World Grand Prix. Brendan won his way through to his First Major Darting Final having secured victories Wayne Jones (World No. 13), Three Time World Champion John Part (World No. 27), John Henderson (World No. 45) and defending Champion James Wade (World No. 3).
In the Semi Final against James Wade, Brendan become the first player ever to record a 9 dart finish in the double in double out format, he started with a 160, hit a 180 and finished 161 to send the packed CityWest venue wild, this was quite simply an astonishing feat from the Belcoo man. He went on to face Phil 'the Power' Taylor in the final where he lost 6-3 in sets. Taylor is easily the best darts player in history and this was the 10th time he has won the Grand Prix to go alongside the 15 times he has lifted the World Championship title so there is no shame in lossing to a man of this calabre.
Brendan proved to himself he can cut it with the best during this week and we will be seeing more of him in the future as he has now broken into the top 32 in the world. Brendan has shot up the rankings to now be the 25th best player in the world.
His next major televised tournament will be the Grand Slam of Darts, beginning on 12th November before we see him again at Christmas in the World Championship.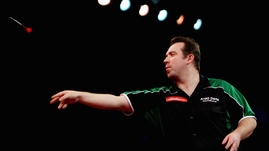 You must be logged in and associated with this team to post comments. If you are logged in and associated with this team, then your user association type does not have sufficient permissions to post comments.